Flavia Alterra
FLAVIA is a hot beverage system that prepares single servings of coffee, tea, and hot chocolate drinks.
Our unique system brews drinks in a single serve "Fresh Pack" which means that the pack is the actual brewing chamber. Then the drink pours directly from the packet into the cup rather than through a common channel so each cup is a pure and fresh taste.
The Fresh Packs are foil-sealed, thus protecting the ground coffees and teas from oxygen and moisture. The FLAVIA® brewer gives you more than gourmet coffees and fresh tea options, your office can enjoy specialty drinks like cappuccinos, mochaccinos and cafe latte creations.
Improved Design
The taste is even better now with the new drinks control and delivery system created to maximize the flavor, aroma and body of each beverage. This is done using the optimum temperature for coffee brewing (198° F) and new individual brewing cycles for coffee and tea ensuring the perfect cup every time. For even greater ease of use you can also select your drink strength and size.
The FLAVIA also features a new hot tank system which provides continuous delivery of drinks so you never have to wait for the water to heat up. It is ready for use in just 50 seconds. You never have to wait for a fresh cup of coffee!
The machine only weights 23 lbs and is under 17 inches making it easy to fit in any environment.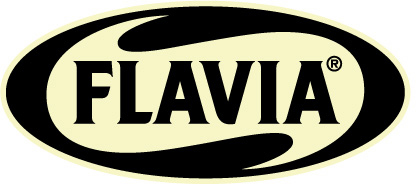 Morning Roast
Columbian
House Blend
French Roast
Italian Roast
 
Ethiopian Blend
Donut Shop Regular
Costa Rica
Expresso Roast
Sumatra
Foundry Blend
Hazelnut
French Vanilla
 
Baristas Blend
House Blend Decaf
French Roast Decaf
Chai Spice
Lemon Herbal
Green With Jasmin
White With Orange
 
Peppermint Herbal
Earl Gray
English Breakfast
Select Green
100 count cases
Hot Chocolate / Cappuccino Creamers
Dove Hot Chocolate (72 count cases)
Froth Real Milk (72 count cases)
 
Flavia 10 oz Cups (1000 count cases)
Flavia Lids (1000 count cases)